Welcome to Automatic Juicer
We would like to thank you for taking interest in our Automatic Orange Juicer. Here at our Web Site,you will find our products along with a description of "How It Works".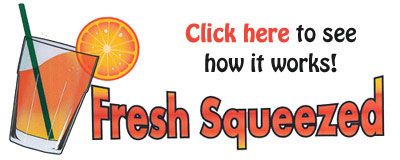 As perhaps you already know, the Automatic Orange Juicer is the most unique piece of fresh food merchandising equipment on the market today. This machine not only stimulates a demand for fresh orange juice, but enables the owner to create a totally new aura around his food and beverage trade.
We have been manufacturing this juicer for over 40 years. Thus, we have refined, improved and simplified this unit to the proven concept it is today. Believe it or not, each unit is still hand crafted out of the finest stainless steel by artisens who still take pride in the product they produce. This insures you of quality machines which will with stand the abuses often occur in commercial kitchens.